Thirsk by long-distance coach

Thirsk by long-distance coach
– April 2021
Plan your journey to Thirsk by coach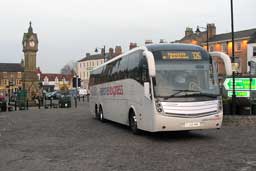 Long distance coach services
Traveline gives you local and UK-wide public transport options
Coaches run by National Express stop in Thirsk Market Place, the centre of the town.
You should buy your ticket in advance of travelling either online or at an agent – this includes most post offices. In Thirsk you can buy National Express tickets at the post office inside the Co-operative supermarket in the Market Place.
You can travel to/from Thirsk without changing coaches from/to London, Milton Keynes, & Leeds.
Depart Thirsk 9.00. Leeds (arr) 10.00. Leeds (dep) 10.30. Milton Keynes 13.20. London Victoria 14.55.
Depart London Victoria 16.00. Milton Keynes 17.35. Leeds (arr) 20.50. Leeds (dep) 21.10. Arrive Thirsk 22.00.